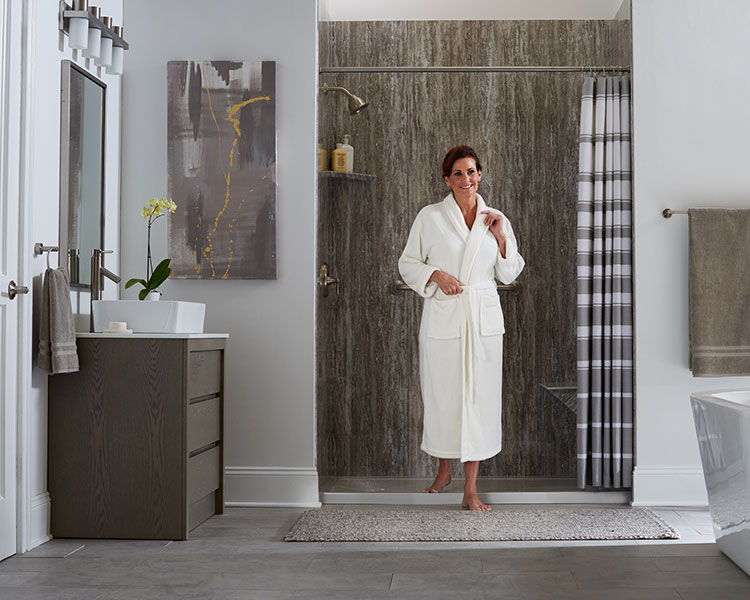 Established in 1991, Bathwraps specializes in bathroom remodeling with some of the shortest lead times in the industry so you get the new bathroom of your dreams quickly and efficiently. As one of the fastest growing acrylic manufacturers in the industry, our technical innovations put us at the forefront as your premier source for tub to shower conversions, walk-in bathtubs, bath liners, and custom-manufactured bath or shower systems.
Because we specialize in bathroom remodeling, you can turn to us to transform your existing bathroom from drab to daring. It's time you had a luxurious, comfortable, functional bathroom! Our experts can design and build custom shower pans for replacement showers and bathtub to shower conversions, plus we stand behind our bath and shower systems made with mold and mildew resistant 100% non-porous acrylic thanks to a full warranty guaranteeing that our products won't crack, fade, or peel over time. In fact, the Bathwraps Lifetime Guarantee covers your Bathwraps application for the life of your house.
The Bathwraps Advantage means you get the best quality American-made acrylic designed to last the test of time. So, whether you want to replace just one fixture or an entire bathroom, we can put you in touch with a wide range of colors and accessories to make your transformation complete. Backed by excellent dealer support and quick turnaround times, our installers are factory-certified and continually trained in perfect-fit installation.
Remodeling your bathroom doesn't have to be stressful or messy. We offer an affordable alternative to construction with our individually manufactured tubs and showers that ensure a perfect fit. Choose from many colors and patterns, such as simulated marble, granite, and stone, as well as built-in accessories, such as grab bars, caddies, pedestals and shelves. For quality work and superior service in Roselle IL, choose the experts in bathroom remodeling from initial design through finishing details.
Learn More About Bathwraps and Get a FREE Estimate
Want to know more about what makes us great? Contact Bathwraps for a free quote or for more information.