Bathwraps offers complete shower remodeling services as part of our comprehensive bathroom remodeling services. Thanks to shower conversion products that are durable and attractive, it's easier than ever to enjoy a brand new shower at a fraction of the cost, time and stress of a brand new shower that has to be gutted.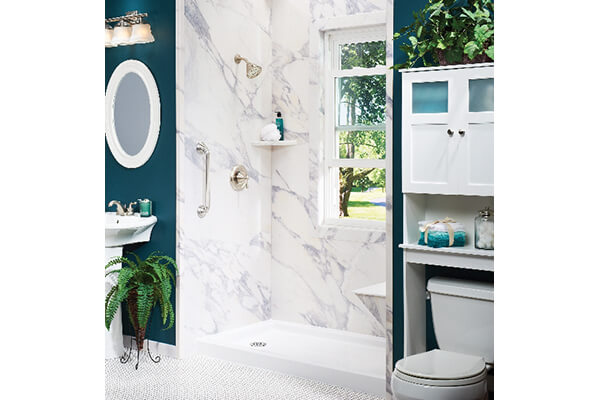 Our 100 percent acrylic shower conversion products are built to last, with the option of our signature anti-microbial protection that guarantees a mold and mildew resistant shower for as long as you own your home. Bonus: our completely customized shower surrounds are available in many patterns and colors, such as:
Sand-shell beige
Quarry topaz
Platinum gray
Faux granite, tile, or stone
Is your existing shower outdated, stained, damaged or just plain ugly? It's time you turned to Bathwraps for remodeling assistance. With our shower conversion options, you are in the driver's seat when it comes to choosing your custom-made dream shower from top to bottom. Feel free to select from a wide range of colors and patterns as well as accessories and fixtures that lend that perfect finishing touch. Here's a look at some of the accessories we offer:
Recessed soap dishes
Corner caddies
Single and corner shelves
Safety grab bars
Flush mount soap dishes
Dedicated to giving our customers a prompt and affordable solution to a new shower, you can lean on our factory-trained technicians who are continually updated on the latest installation best practices for your peace of mind. Don't live with a damaged or dirty tub and shower any longer. Choose Bathwraps for a functional and cost-effective solution.
Call for a FREE Estimate on Shower Remodeling from Bathwraps
To start your shower remodeling project off right, get a free quote from Bathwraps.