Backed by efficient and quality installation, Bathwraps offers superior shower replacement that takes the stress and hassle out of your bathroom transformation. Perhaps you've considered getting a new shower many times over the years but the thought of living among messy construction for days or weeks has you headed for the hills.
Bathwraps products feature 100 percent acrylic showers built from scratch according to our customers' exact specifications. Our shower replacement services make it easy and affordable to own a brand new shower. It's time to transform your bathroom today! We can help.
Our 100% acrylic shower conversion products are built to last as part of our comprehensive bathroom remodeling services. Our shower replacement services are offered by factory trained professionals who know all the latest techniques and best practices for installation to give you peace of mind. It's never been easier to give your bathroom a whole new look in just a few easy steps. Bathwraps boasts 100 percent acrylic shower conversion products that offer anti-microbial protection guaranteeing a mold and mildew resistant shower for as long as you own your home.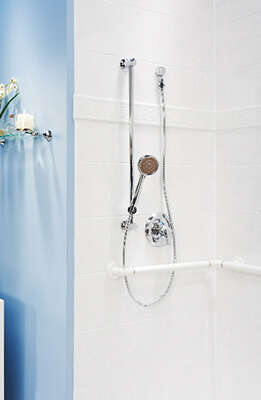 Check out our completely customized shower surrounds available in several different patterns and colors, including:
Sandshell beige
Quarry topaz
Platinum grey
Simulated granite, tile, or stone
From surrounds to tub-to-shower conversions, we have the quality products you need to complete your bathroom remodeling project. Imagine: living in luxury and saying goodbye to your old, ugly, stained shower. Your dreams can come true with us, affordably and quickly.
FREE Shower Replacement Estimate From Bathwraps
Thinking about replacing your shower? We want to hear from you! Contact Bathwraps for a free estimate today. We would be happy to schedule your in-home consult to get you going on your bathroom remodeling project.