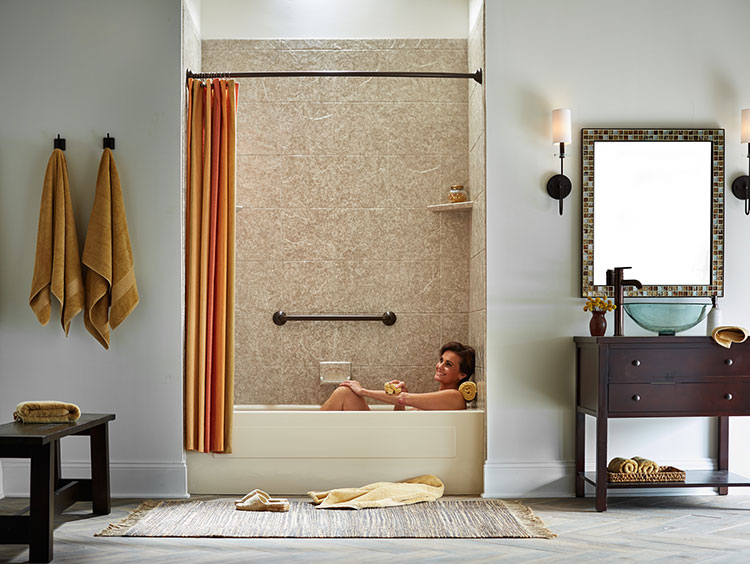 Transforming your bathroom from "boring" to "bold" is our specialty here at Bathwraps, where we offer quality bath tub remodeling that will update and modernize your space.
It all starts with a free estimate from us so you can budget for your affordable project. We work with you step by step so you get peace of mind throughout the process. As part of our comprehensive bathroom remodeling services, you can trust that our tub liners are made of 100% acrylic guaranteed to never crack or fade. If your bathtub is out of date, damaged or just plain ugly, it's time you gave it a makeover, thanks to sleek bath liners from Bathwraps. Who says a bathtub remodel has to involve a messy time-consuming project?
Why not let Bathwraps install convenient, easy to maintain, nonporous tub liners as an affordable and easy alternative? Our products feature mildew- and mold-resistant construction, guaranteeing your tub liner for as long as you own your home.
Whether you're looking to enhance your all-new master bathroom or you want to convert your guest bathroom into a cozy and comfortable space, lean on our expert installers who are factory certified and constantly trained on the latest industry techniques. Our experienced bathroom designers are experts on maximizing available space, making even the smallest room feel spacious.
Rest easy knowing we offer the following customization options:
Various sizes and shapes, including low-threshold and deeper options
Custom drain locations
Spectrum of colors, styles, and patterns
Finishing touches, such as window kits and wainscoting
Accessories such as safety grab bars and soap dishes
Get a FREE Estimate on Bathtub Remodeling by Calling Today
Getting started on your bathtub remodeling project is as easy as getting a free estimate from us. Contact Bathwraps today!