Bathwraps offers homeowners an easier alternative to messy bathroom renovation with our quality shower and tub surrounds. Our 100% acrylic shower conversion products are built to last! We offer this as part of our bathroom remodeling services, with proven products that are both durable and attractive.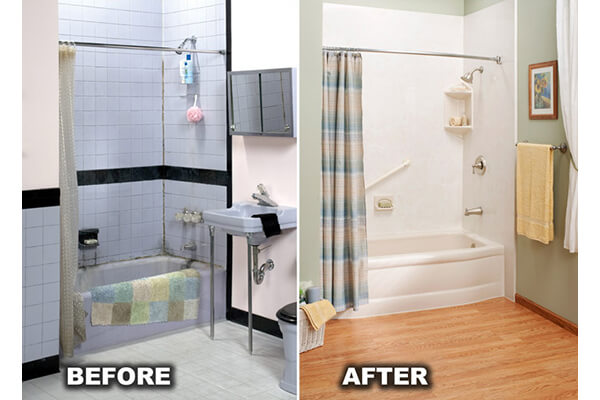 It's easier than ever to enjoy a brand new shower at a fraction of the cost, time and stress of a brand new shower that has to be destroyed and rebuilt. You don't want to deal with that hassle, especially since you need your bathroom to function daily! The great thing about a shower or tub surround is it can slip right over your old one. From white to beige to a variety of other colors, you can give your bathroom a whole new look in just a few easy steps.
Bathwraps has the products you need, backed by quality installation technicians and warranties that give you peace of mind. Our 100 percent acrylic shower conversion products offer anti-microbial protection that guarantees a mold and mildew resistant shower for as long as you own your home. Take a look at our completely customized shower surrounds available in many patterns and colors, such as:
Sand-shell beige
Quarry topaz
Platinum gray
Faux granite, tile, or stone
Our shower and tub surrounds also come with the features you're used to, such as corner shelves, soap dishes, grab bars and corner caddies. No need to buy extra accessories. If your showers and tubs are outdated and stained, let Bathwraps help you make a seamless transition from ugly bathroom to showpiece in no time. We want our customers to enjoy an affordable solution to a new shower and tub, which is why you should rely on our factory-trained technicians who are continually updated on the latest installation best practices.
Let Bathwraps give you a functional and cost-effective solution with our shower and tub surrounds.
Call for a FREE Estimate on Shower and Tub Surrounds from Bathwraps
Setting your budget for a shower and tub surround project is easy. Call Bathwraps to get a free estimate for your project.