Bathwraps can transform your outdated, ugly bathtub into a thing of beauty with our high-quality 100% resin for a custom fit, long-lasting durability, and beauty.
If you can't stand to look at your existing tub because it's so out of style, damaged or stained beyond repair, there's a simple solution – a new tub liner. Why hassle with a huge construction project? This quick, easy, stress-free option doesn't just cover up your existing tub, it also gives you the luxurious bathing experience that you always wanted.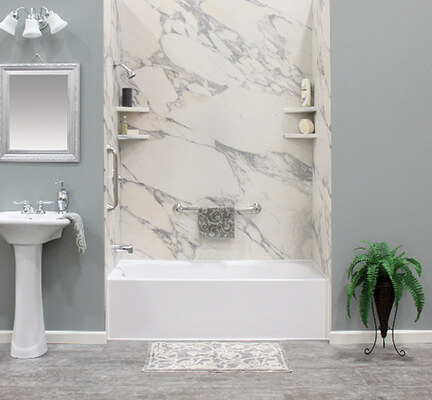 It's time to make that dream a reality by calling Bathwraps. We can help you customize your tub to suit your needs, plus you get access to a variety of accessories such as:
Corner seats
Soap dishes
Corner caddies
Tower caddies
Grab bars
Foot pedestals
Our custom manufactured tub liners are crafted from 100 percent non-porous acrylic that is mold- and mildew-resistant. Rest easy knowing our American-made liners feature anti-microbial protection, which prevents bacteria from mold and mildew from growing and proliferating. The result is an easy-to-clean tub, highlighted by long-lasting performance backed by a guarantee that your new tub liner won't crack, fade, or peel for as long as you own your home. And because we manufacture our bath liners in-house, you know our experts can ensure a perfect fit thanks to all the detailed measurements we take. Our factory-trained installers know all the latest installation tips to make for an efficient and impeccable job each and every time.
Make the Call to Bathwraps for a FREE Estimate on Tub Liners
Your bathroom remodeling project starts with a free estimate from Bathwraps. Give us a call today for more information on our high-quality tub liners. We would be happy to schedule an in-home consultation with you.