Bathwraps can transform your outdated bathtub into a fully functional shower that adds comfort, convenience and value to any bathroom in as little as one to two days.
If you have an old, damaged or out of style tub that you just don't use any longer, there's no sense keeping it. It's taking up valuable space and not adding any comfort or convenience to your life. Instead, let our experts convert it into a high-quality acrylic shower system that includes a shower surround.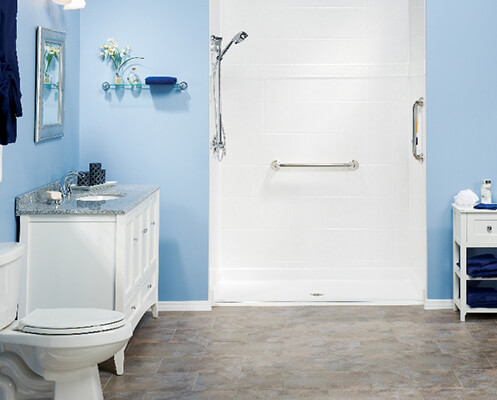 If you're looking for a fast, low-mess installation, this is your best option. The result? A sleek, modern look that makes your bathroom easier to clean due to the non-porous acrylic we use to manufacture our products. It also happens to be mold- and-mildew resistant, guaranteed to never crack, peel, or fade.
Take a look at the many tub conversion products we manufacture:
Barrier-free: Ideal for mobility-impaired individuals and others who need an easier way to get in and out of the shower.
Low-threshold: Affords a safer bathing experience since you can enter or exit without having to take a big step.
Built-in seat: People who can't stand for long periods of time will enjoy this type of tub conversion, as well as those who like to relax while they shave.
Ask us about our completely customized shower systems, which feature our own shower pans regardless of shape or size. You will appreciate the modern look and convenience of our tub conversions.
Call Bathwraps for a FREE Estimate on Tub Conversions
If a tub to shower conversion is part of your bathroom remodeling plan, please contact Bathwraps for a free estimate today to schedule an in-home consultation.