Backed by efficient and impeccable installation, Bathwraps offers high-quality bathtub replacement that takes the stress and hassle out of your bathroom transformation.
Perhaps you have thought about getting a new bathtub several times, but the thought of living among messy construction for days or weeks stresses you out. Bathwraps can get you a new tub liner installed in as little as one day!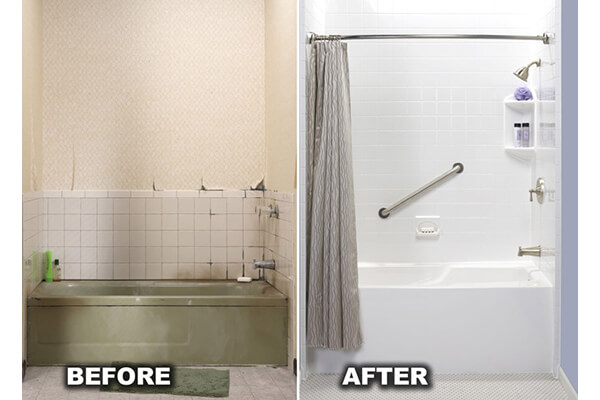 Our 100 percent acrylic bathtubs are custom-built to your specifications. We offer you a wide selection of colors, styles, and optional features to choose from, with bathtub replacement that's easy, affordable, luxurious and gorgeous.
Plus, our tubs won't succumb to mold and mildew because they are nonporous and feature anti-microbial protection that ensures that your replacement bathtub is maintenance free for years to come. Take a look at our custom manufactured replacement bathtub styles:
Low-threshold tubs for a safer washing experience since they don't require a large step to enter or exit the tub. Great for children, those with disabilities, and the elderly.
Deeper tubs are great for soaking and relaxing, well known for their luxurious nature. You can even get a walk-in tub which is ideal for those with mobility issues.
From platinum gray to alabaster white, we can match the décor of your bathroom with access to many different colors backed by industry-leading lifetime guarantees good for as long as you own your home. Check out our beautiful tub liners for a cost-effective way to rejuvenate your tub without having to replace it entirely.
Obtain a FREE Estimate on Bathtub Replacement Today from Bathwraps
Looking to replace your bathtub? Contact Bathwraps for a free estimate today. We would be happy to schedule your in-home consult to get you started on your bathroom remodeling project.