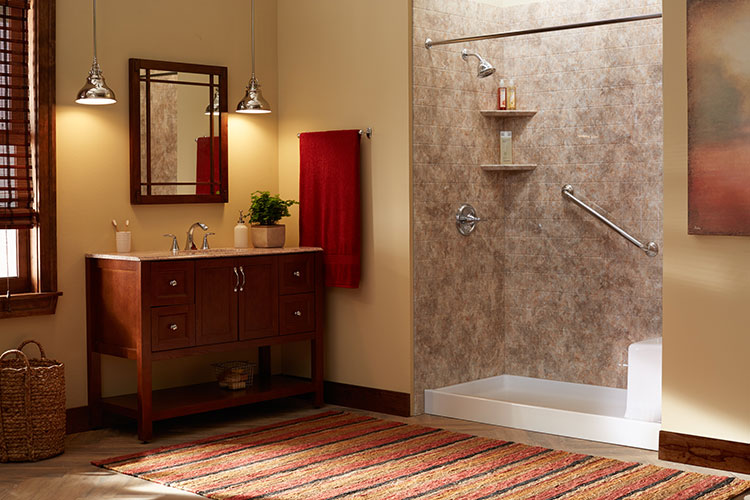 Bathwraps has been the premier source for complete bathroom remodeling since 1991, offering some of the shortest lead times in the industry for quick turnarounds and high quality.
Your bathroom should be a sanctuary, a place to get ready in peace in the morning and retreat to at the end of a long day. Having a functional, comfortable and luxurious space for yourself is key in reducing stress.
If you have an outdated bathroom, look to Bathwraps to transform your existing bathroom into a showpiece. We are the most trusted bathroom remodeling company in Roselle IL and beyond, with experienced factory-trained home improvement professionals who can handle all aspects of your project. As part of our bathroom remodeling service, we offer:
Tub to shower conversions
Walk-in bathtubs
Bath liners
New bathtubs
Shower pans
Custom-manufactured bath or shower systems
Whether you have limited mobility or just want a whole new look for your bathroom, Bathwraps is one of the fastest growing acrylic manufacturers in the industry. Turn to us for beautiful bath and shower systems made with 100% American-made non-porous acrylic that's mold and mildew resistant, backed by a full warranty guaranteeing that our products won't crack, fade, or peel over time. In fact, the Bathwraps Lifetime Guarantee covers your Bathwraps application for the life of your house.
Our individually manufactured tubs and showers ensure a perfect fit with no messy construction projects that take weeks to complete. We have a variety of colors and patterns to choose from, along with built-in accessories, such as grab bars, caddies, pedestals and shelves. It's time you invested in quality work and superior service with the best bathroom remodeling professionals around.
Get a FREE Estimate on Bathroom Remodeling
For a free quote on bathroom remodeling from Bathwraps, feel free to contact us anytime for additional information.